Referral Program Details:
The National Basketball Youth Mentorship Program
Referrals must be for a 2-Day (or longer) NBYMP Workshop. Single day Workshop referrals are excluded from this program
The person referred must pay at least 75% of the Workshop cost
When registering, the person referred must state who referred them to the NBYMP Workshop
All Raptors tickets are for the 2019/2020 season. Ticket dates and exact seating locations are selected by the NBYMP
All tickets and gift cards will be distrbuted shortly after the official release of the 2019/2020 NBA schedule
This offer does not apply to our Nike camps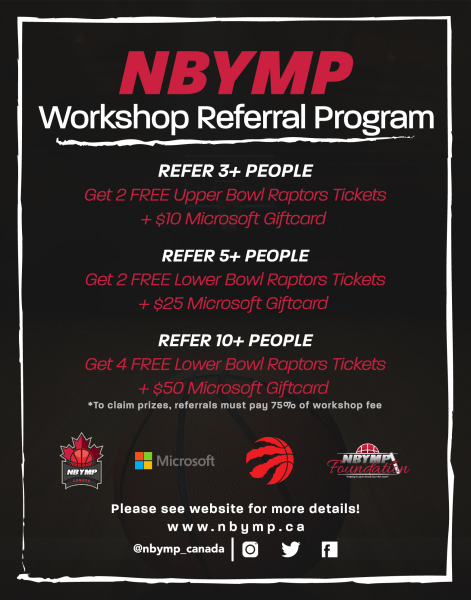 100% Money Back Guarantee!
We pride ourselves on delivering a unique basketball experience for youth that offers invaluable teacherings both on and off the court. Not Satisfied? We will give you a FULL refund!
It was great to get NBYMP into Brockville to work with our players. every kid I talked to said they loved every second of the camp. Touching on different, useful topics made it stand out from the normal skill camps. The coaches were young leaders and had the same goals as the kids at the camp when they were that age. Would recommend any organization bringing in Kevin and his team.
From hearing the speakers to having an opportunity to do some of the warm up exercises , I felt that this camp was so complete , and very accessible. I loved the location and everything that coaches and facilitators had prepared for the kids.
I wish i had come across this organization earlier , I am happy I found such a supportive environment for my son
The weekend workshop was absolutely fantastic. My son was asking to go again before we even left the parking lot. This program is unique in that there is a strong emphasis on healthy development both on and off the court. The education component is comprehensive and engaging. There were plenty of challenging drills, great games and scrimmage opportunities. The coaches were incredible role models with many positive messages to share throughout the weekend. They had endless energy and enthusiasm and a wonderful rapport with the kids.